We know that it has been a challenge for event organizers to keep their attendees engaged with hybrid and virtual events. To help them overcome this, we have been adding innovative and highly interactive features to our event platform recently.
Introducing Event Hub: Attendee Engagement In One Place
Now, drive attendee engagement before, during, and after your event directly within Eventzilla using the all-new Event Hub Solutions. Whether you host a virtual or hybrid event, you can deliver an immersive experience to your attendees. With the Event Hub, your event attendees can access the content anytime before, during, and after the event. Build a rich attendee profile and create an immersive event experience by engaging your attendees with networking opportunities, polls, activity stream content, 1:1 chat, and more.
With your attendees in one place, you can make a real difference by making the most of their time and making sure they are able to maximize their experience with you!
Here are the features of Event Hub Solutions;
Customizable Lobby/Reception Page
Instead of letting your attendees jump into your event straightway, welcome them to a captivating lobby page with a custom banner that resonates with your brand. Importantly, your attendees get a glimpse of what they can expect from your event instantly once they register for the event. Showcase custom event agenda, featured sessions, speaker details, activity stream, polls, etc.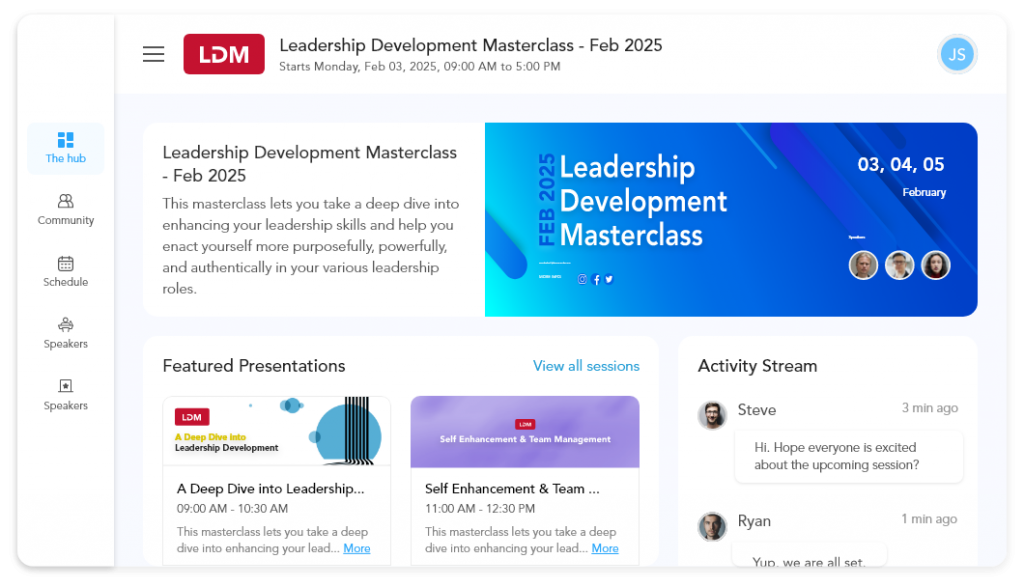 Interactive Sessions/Agenda
Your audience can easily access and view the event agenda with concurrent sessions and links to watching streaming content. Attendees can choose between watching it live or the recording later.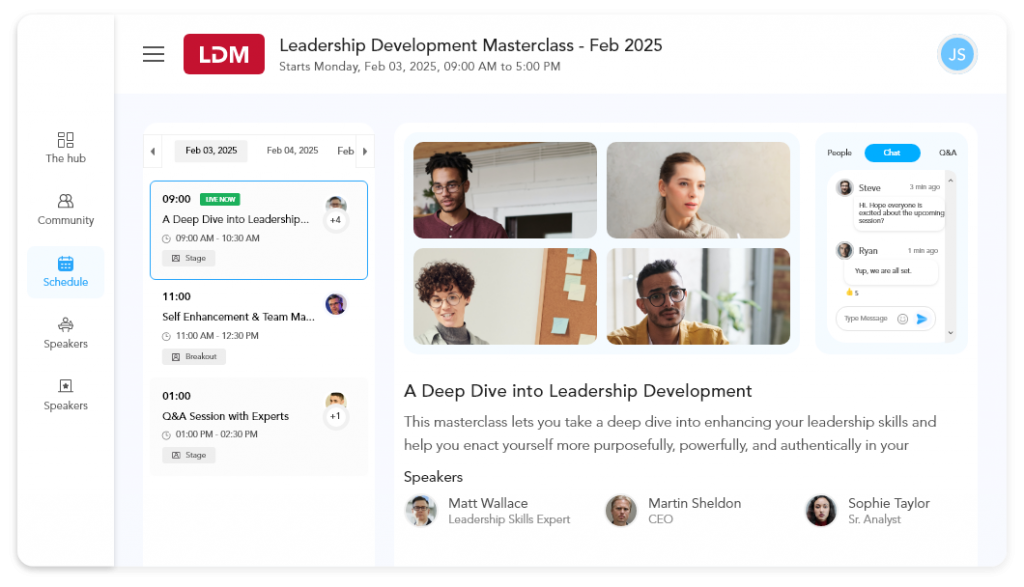 Self-service Live Streaming
Broadcast studio-quality live-streaming sessions or pre-recorded videos with self-service video production tools for smaller interactive events or for bigger events with large keynotes.
Attendee Networking
Attendees can interact with other attendees using a 1:1 chat option before, during, and after the event. Also, you can make your attendees participate in polls to engage them.
Individual Page for Sponsors & Speakers
Your event sponsors get more value, as they get a separate page to promote their brand and share their content to drive up the lead generation. On the other hand, your speakers also get a separate page to showcase all their required information.
Check out this step-by-step guide to setting up an event hub.
FAQ's
How can I publish Event Hub for my event?
Once you publish your event registration page on Eventzilla, you will see options to configure and publish Event Hub.
Event Hub is completely optional. You can turn it on or off anytime.
How much does it cost to use Event Hub for my event?
For free events, we charge $5/attendee.
For paid events, we charge 2.5%/attendee ($3.5 minimum)

There are no upfront costs. For paid events, you can decide to pass on the fee to your attendees. For free events, we will invoice you at the end of the calendar month and you can pay us online.
Can I trial Event Hub before publishing it?
Yes. You can preview the Event Hub features during setup. Until you decide to publish, there are no charges to preview the Event Hub content.

Can I get a custom quote for Event Hub?
Yes. You can send your event requirements to sales@eventzilla.net