Needless to say, a sold-out event is a feather in the hat for any event organizer. With more event ticket types, you can boost your chances to sell your events faster. When you create multiple ticket types for your event, it creates a sense of urgency among your potential audience whenever they come across that a particular event ticket type is sold out. Eventually, you can achieve your event registration goals with ease.
Let's walk you through the different types of an event ticket and their advantages;
General Admission Seating (GA)
This is the most popular event ticket type that most event organizers include in their ticket pricing strategy. As these general admission tickets target mass audiences, the prices are usually less expensive compared to VIP or tickets with any privileges. Also, it creates an opportunity for you to get conversions when someone doesn't get your VIP ticket. So, creating a GA ticket type is the foremost thing to consider while creating different event types of tickets for your event. In short, it creates a baseline experience for your audience.
Reserved Seating
With a reserved seating option, your potential attendees can choose their preferred seats and sections from the event venue using your event ticket sales page while booking their tickets. However, the reserved seating system suits only specific types of events that include sporting events, music concerts, etc. This ticket type is advantageous for attendees, as they can reach your venue stress-free. Also, it helps you to create socially distanced seating arrangements.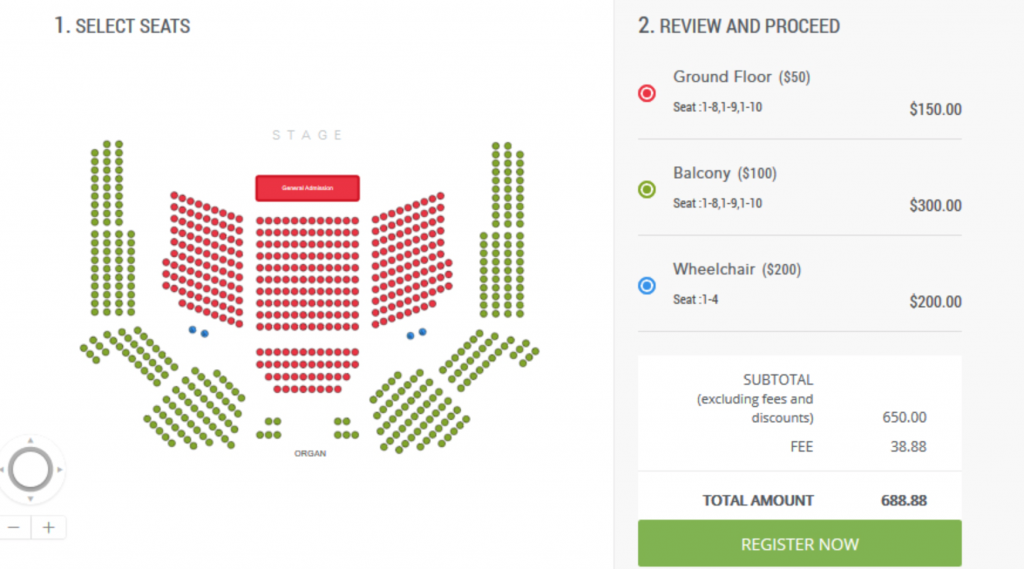 If you want to create reserved seating tickets for your event, try Eventzilla.
VIP Ticket
As the name suggests, this ticket type must create a VIP experience for your attendees. With a VIP ticket, you can lure more people to register for your event and generate a good ROI. So, if you have the potential to offer a premium experience for your attendees, creating a VIP ticket type is certainly the best option to consider.
Multi-day & One-day pass
If your event happens for multiple days, it's ideal to create multi-day and one-day pass tickets. Some attendees might show interest in attending your event all day and some might want to attend your event for just one-day. With these ticket passes, you're giving an option for your attendees to choose their tickets according to their convenience. This way, you're not going to miss any of your potential attendees register for the event.
Early bird discount
To sell your event tickets faster, an early bird discount is certainly the best ticket-selling strategy that you must leverage. By creating this early bird ticket, you can create a buzz around your event and use it across your event marketing campaigns. To make this work better, you can set a time and date limit to avail your early bird offer. Besides, you can also provide some perks for attendees who availed of this offer.