As we are entering the new year, let's take this moment to share some incredible features released by our team in the past year. At Eventzilla, we continuously work on improving our product and adding new features to make life easier for event organizers to deliver the best event experiences possible.
If you have missed getting to know about the top features that we released in the past 12 months, check out the list of our features below.
1. Multi-user access revamp
We have completely redesigned the multi-user access feature allowing you to work even more collaboratively with your event team members. With this latest update, you can now assign new user roles with different levels of access.
In the Account settings > Teams Settings, you can create and manage roles with permissions.

This gives the user access to the event based on the role(s) and permissions they've been given. Learn more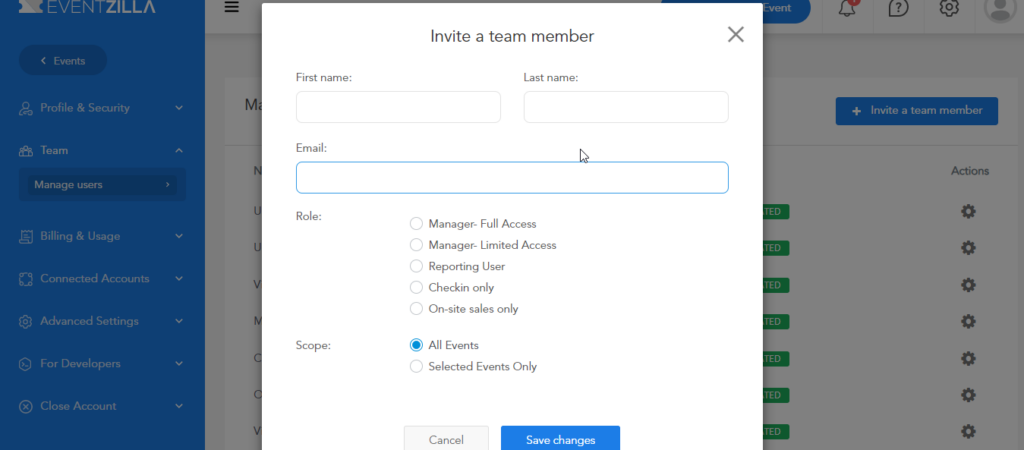 Note: You can only restrict access to events for users who do not have the "Owner" or "Admin" roles assigned to them.
2. Option to import sessions/agenda in bulk from a CSV file
Creating sessions for events has never been this easier. Eventzilla now lets you import up to 50 sessions to your event at the same time by adding information from a CSV file you submit. This way, you can save a lot of time by avoiding adding each session individually while uploading a lengthy agenda.
3. Webinar engagement analytics
Measuring the engagement is hosting better events in the future. To make this happen, we launched a set of features to track the engagement for virtual events.

You can view the number of views, visitors, and so on. Stay tuned for more reporting updates in 2022.
4. Embed sessions widget
Want to display your event's agenda and session details on your website or blog? You can do it now by adding our new embed session widget feature.
5. Quick Signup & login using your existing Google account
The Eventzilla sign-up process was made easy with the direct Google log-in option. Thus, users can now quickly and securely log in using their existing Google account credentials.
6. New modern theme for your event
Introduced a modern theme for your event page to provide a seamless registration experience for your attendees. It's more responsive than the older version and ensures better compatibility across all browsers and mobile devices. Learn more
7. Online Payment Option for "Pay by invoice" registrations
Attendees can pay for an order placed by the 'Pay by invoice' option from the invoice pending email they receive using the Stripe payment option. This will potentially speed up the registration process and cut down the back-and-forth emails between the event organizers and attendees.
8. Customize the registration confirmation email
Add detailed information about your event and redesign the confirmation email template that you send to attendees after using our customization feature. Also, we have updated the UI of this feature to make it more user-friendly for organizers. Know more
9. Embed the Zoom meeting/webinars in the hub page
Attendees can now access the embedded view of Zoom meetings or webinars on the Eventzilla hub page itself. With our Zoom native integration, you can do much more within our platform.
10. All-new Name Badge Designer Tool
With our advanced name badge designer, organizers can create unique and personalized name badges for event delegates, sponsors, and exhibitors. Know more